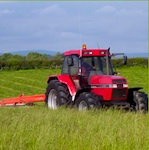 Emily Vaughan from National Journal's Under the Influence reports on lobbying groups using social media with an audience not typically associated with hi-tech media frontiers.   Farm lobbying groups are increasingly establishing a presence on social media platforms such as Facebook and Twitter in an effort to reach out to farmers.
Category: Agriculture, Social Media
John Foreman is the Founder of lobbying industry websites; LobbyingFirms.com, LobbyingJobs.com & DCLobbying.com.